Here are some villians
Appearance: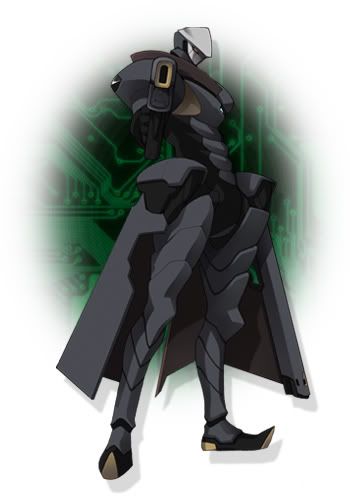 Name: Rei(Vulcan)
Gender: Male
Race: Humans
Abilities: Suit allows for enhanced, strength, speed, agility, and reflexes, trained to handle various types of fire arms.
Age: 24
Gear: GPS system built into the suit.
Weapons:
Twin pistols named "Crime" and "Punishment"
Assault Rifle named "Vail"
Sniper Rifle named "Whisper"
Positron Bazooka named "Requiem"
Character Song:
GACKT Redemption
[ame]http://www.youtube.com/watch?v=fMcjUvlRSYg[/ame]
Personality: cold. ruthless, and cunning, and a loner.
History:
There is very little known about Rei except that he can be best described as a man who doesn't stop till he gets what he wants. He's a master thief that only went after the most prestigious of items. He's what one might call a "Jack of all trade", having trained as both a mercenary, and an assassin.
He is known to many as "Vulcan" for his mastery of various fire arms. He wasn't always like this, in the past he knew Kazuma Shiro's father, as his rival. Their rivalry ended when he encountered them in the caves where he died.
Appearance:
Name: NTX1 ZERO
Gender: N/A
Race: Android
Abilities: Increased strength, speed, agility, and reflexes, specializing in hand to hand combat
Age: N/A
Ranger Designation:
Gear: Stealth unit
Weapons: Twin katana,
Personality: Rarely showing emotion, he's programed to followed Rei's orders without question
History:
ZERO is an acronym for ZEnith armOR created to compliment Rei's fighting style, however he's usually deployed to take care of any grunt work for Rei