Some countries around the world right now only have reruns on television. Why? They cant film new seasons of their TV show because of quarantine rules. They have not enough footage filmed because of the Pandemic, and that is understandable. Their only new content would be News and maybe some live talk show filmed inside the house of the reporters. The year cursed year is not over yet, but we are lucky that streaming platforms and tv networks still have some shows and events for us to enjoy. Here are some effects of the Covid 19 outbreak on the work of entertainment television.
High rating shows canceled
I will take forever if I will list down all of the canceled shows because of the rona. I will just use one example that still makes my heart bleed. Glow is an award winning drama that was originally renewed for a fourth season. That season is suppose to be the series finale but Netflix ends up canceling the show because they can't film on the intended filming date because of nationwide quarantine.
Live events in empty Arenas
Every Wrestler who works for WWE yearns for a match in Wrestlemania. Last year over 82265 watched it live in a big stadium. Not only it gives them their biggest payday,it also gives them the biggest crowd which motivates them to perform better.

Thanks to Covid, the wrestlers performed inside an empty gym with no people.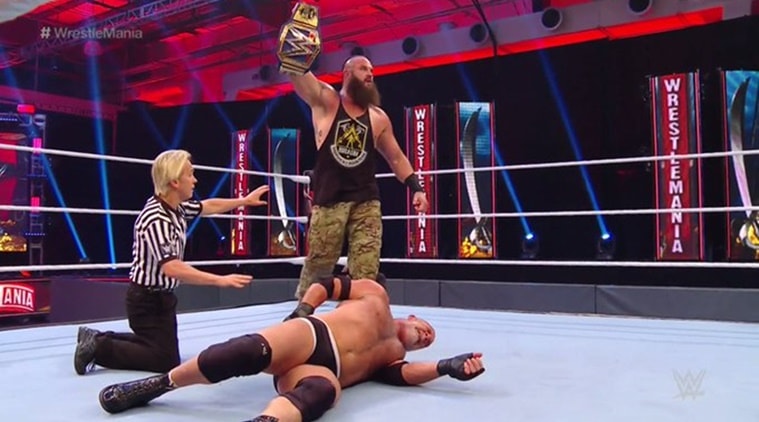 I watched the event and it is a very creepy experience. Almost every sports event adapted this model until they found this solution.
Virtual audiences
People endured watching talk shows via zoom inside the house of the host.Then Virtual audiences got invented.This made everything more tolerable.
Sports events followed and it is more tolerable to watch now over empty arenas.Fans cheering at home is better than no fans at all.
We can finally see crowds cheering and their reactions. WWE built Thunderdome, A stadium where a virtual audience can watch live and react from the matches.
Virtual Events
Many global events had gone virtual so they wont need to cancel their shows. The beauty Pageant Miss Earth 2020 is fully digital. The contestants did not leave their countries. They competed in Swimsuit and evening gown at their backyard. For the Q and A they got sent the questions and the answered it via recorded footage. All contestants answered their questions consistently well due to the lack of pressure from a live audience.
Pandemic on the script
The current season of the sitcom Bob hearts Abishola will have episodes about the Pandemic. Abishola the lead female of the show is a Nurse so it is very fitting. The latest season of Gray's anatomy will also tackle the same subject. Expect more TV dramas having the Pandemic as the backdrop.

Zoom and skype dramas
The Courtroom drama made their finale episode via facetime and zoom. All actors filmed it at their homes using their phones and pc.
This trend is popularized further in the Philippines because the Filipino audience yearns for new content. The biggest Tv Network in the country got shutdown by their dictator President because they hurt his fragile feelings. The second biggest Tv Network cant film new episodes of their shows due to quarantine rules.
Along came Gameboys, An LGBT drama about two young men who met via video chat in the middle of the pandemic. The director and actors managed to make a story while social distancing. The episodes have english subtitles so it managed to have an international audience.
Multiple shows that follows the video chat format follow suit.
Netflix produce a zoom and skype movie third sequel for Father of the Bride with some of the original cast members.
Children's show Henry Danger also have an episode fully filmed via facetime but the pandemic is not mentioned. They are in quarantine because of a leak from a butt factory.
Most Animated Tv shows managed to continue production because the voice actors also recorded via facetime. I do hope things go back to normal next year.