White Hot: The Rise & Fall of Abercrombie & Fitch is a documentary about the  fashion brand of the 90s.  Wearing Abercrombie & Fitch was a status symbol back in the 90s. It is a company that sells shirts but the models are not even wearing shirts. All I remember growing up is how expensive their clothing brand is and  how homo erotic their ads are. I mean these guys are selling shirts but they are not wearing shirts. Teens of the 90s to early 2000s are eating it up because they were buying  this brand for prestige and status. They are like the Iphone of clothing. Overpriced but people will  buy anyway.  The Boyband LFO made this Brand a pop of pop culture when their song  Summer Girls mentioned the Brand name.
This is the most tame Abercrombie and Fitch Poster I can use because the rest are crossing the porno category.
White Hot: The Rise & Fall of Abercrombie & Fitch official Trailer
One thing I notice on Abercrombie & Fitch ads back then is that most of their models are Caucasians.  Seeing  a Non Caucasian model promoting this brand was a rarity back then. Messed up as it may sound but back then this brand thrives for not being inclusive.  So Many racism  scandals had plagued this company that it harmed their sales.  Recently this Brand is trying to be more inclusive now and their models are finally wearing clothes.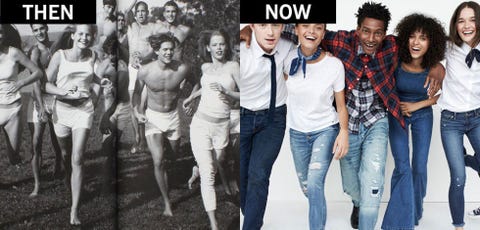 Racial Diversity is not enough to save this company though because their CEO had a reputation.  He made statements that are too offensive making people not give his company money. One of the most infamous statement of this narcissists is that he don't want ugly people to be wearing his brand.
Here is a video montage of his controversies
Negative Publicity after Negative Publicity had plummeted the sales of  this once exclusive brand.  It is recovering a bit after the rebrand but it was not as big as it use to be.
White Hot: The Rise & Fall of Abercrombie & Fitch is coming to Netflix this April 19.