Constance Wu made a tweet back in 2019 that made the fans cancel culture her. It was 2019 and Crazy Rich Asians made her a mainstream movie star. She made history starring on the first  All Asian cast Hollywood movie since  Joy Luck Club.  Also on the Same year  her successful Sitcom "Fresh Off the Boat" got renewed for another season.
Her controversial tweets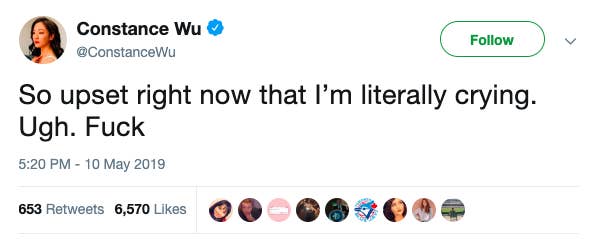 That show is big for Asian Americans because they finally see themselves on Network television. So seeing her complain that her successful show got renewed, made the fans assume that her head got big because of her movie's success, and think acting in a sitcom is now beneath her. Fresh off the Boat was the adaptation of Eddie Huang's memoirs of his childhood. He was part of the show on the first season as the narrator but left by the second season because he got upset when his life story got fictionalized into a sitcom. Despite the controversies of the show, It was a watershed moment for Asian Americans. Seeing an Asian-led show in Hollywood have multiple seasons was a rarity.
Those Tweets upsets fans of the show because they thought she is acting like a Diva. Kind of like how Sally Field hates the flying nun. She spoke on the backstory of her controversial statements made back in the day. She's not sad because she wants the show to end so she can devote herself fully to pursuing movies. Her only comments on the show and its cast were positive, but one of the producers made her life a living hell. In an Interview on TV to promote her memoirs, she said one of the producers of the show sexually harasses her.
Constance Wu may have signed an NDA on why she didn't name the man who assaulted her.  I wonder what to the fans who attacked her in social media feel now?
Constance Wu Interview