Mari Shimazaki is a videogame character designing genius. She knows how to make characters women will like to cosplay and men will like to play us. Her Most popular character creation of all time has been Bayonetta. The creator of the game wanted a sexy Witch character who can match Dante from Devil May Cry's popularity. Even if sex-negative feminists hate her designs, her characters have a popular female fanbase. The following Photos belong to Mari Shimazaki's blog.
Here is the Bayonetta, the character that puts her on the gaming map. Bayonetta is  Mari Shimazaki's magnum opus.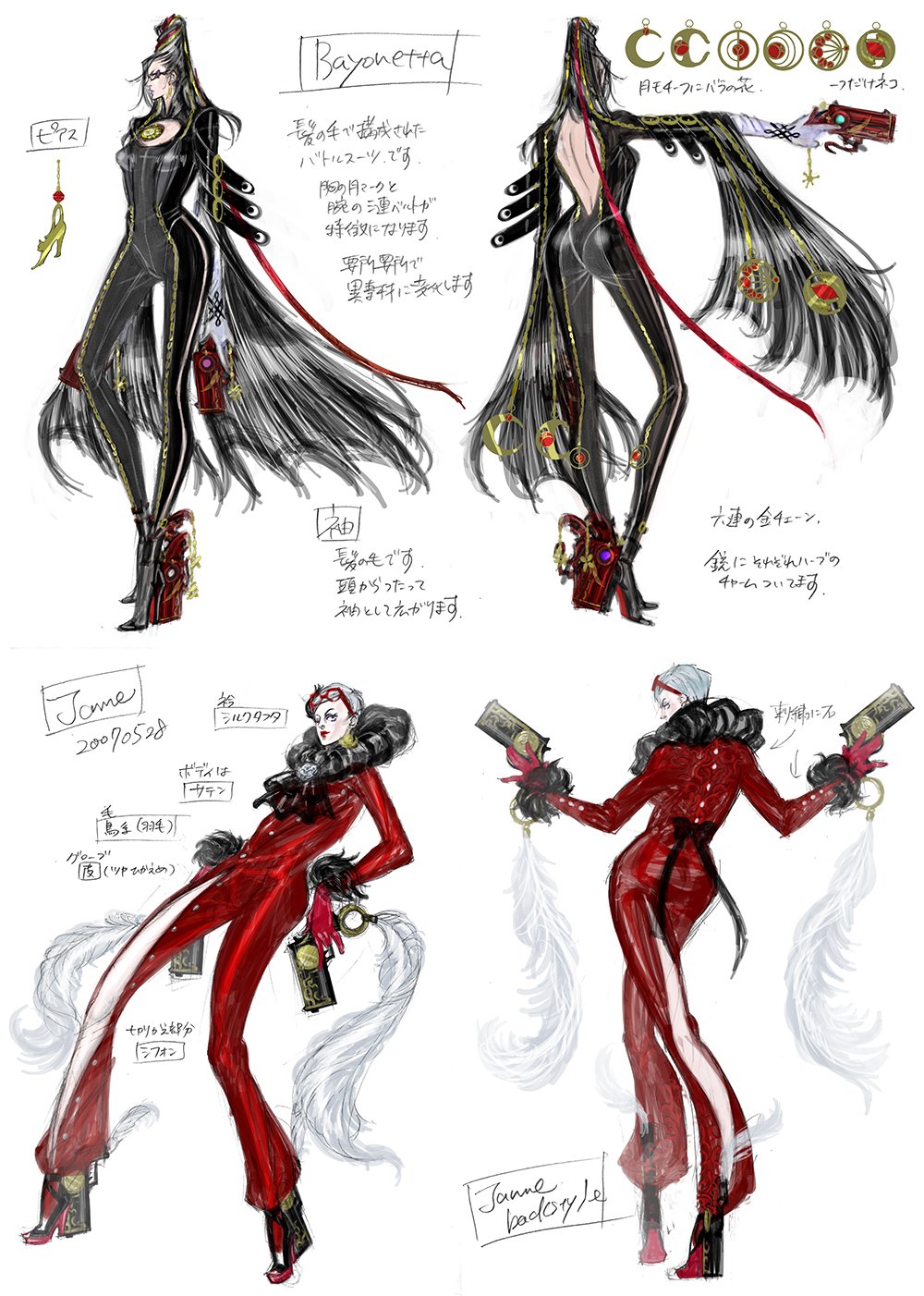 Here are Mari's concepts for the other Bayonetta characters, You can see how many details she puts into her work. Bayonetta's friend and Rival, Jean is given short hair and she is made to look like the fashion icon Twiggy.
NintendoSwitch版、発売2日前なので『ベヨネッタ』1と2のデザイン画を。こっちはベヨ1。懐かしい。開発ブログもあるんだけど、そっちにもそれぞれのセクション秘話とデザイン画がもっと多く載っていますー。2月17日(土)発売です。ベヨ1ブログ→https://t.co/8LonIURUSV#Bayonetta#Bayonetta2pic.twitter.com/1TWwleynJB

— 島崎麻里 (@MariShimazaki) February 15, 2018
Male protagonists of Hack and Slash games tend to wear Capes and long coats. Bayonetta is designed to be sexy. A coat or a cape will cover up her curves.
A cape will cover her long legs and the skin of her backless outfit but she compromised by giving her sleeves on her arms instead.
In Bayonetta 2, she made a Switcheroo. Bayonetta now have shorter hair and Jeanne have the longer weave.
  Mari Shimazaki confirmed she also designed characters for the third installment of the game.
[BAYONETTA3]
This time as well,
I'm in charge of character design and various other things.
Please look forward to.
Lets'dance boys! https://t.co/OuDz57HTlY

— 島崎麻里 (@MariShimazaki) September 24, 2021
Aside from Bayonetta, she is also responsible for the creation of Tekken 7 characters Josie Rizal and Kazumi Mishima. Kazumi Mishima is the final boss of Tekken 7, she is the wife of Heihachi Mishima and mother of Kazuya Mishima.Mari captured her regalness and class.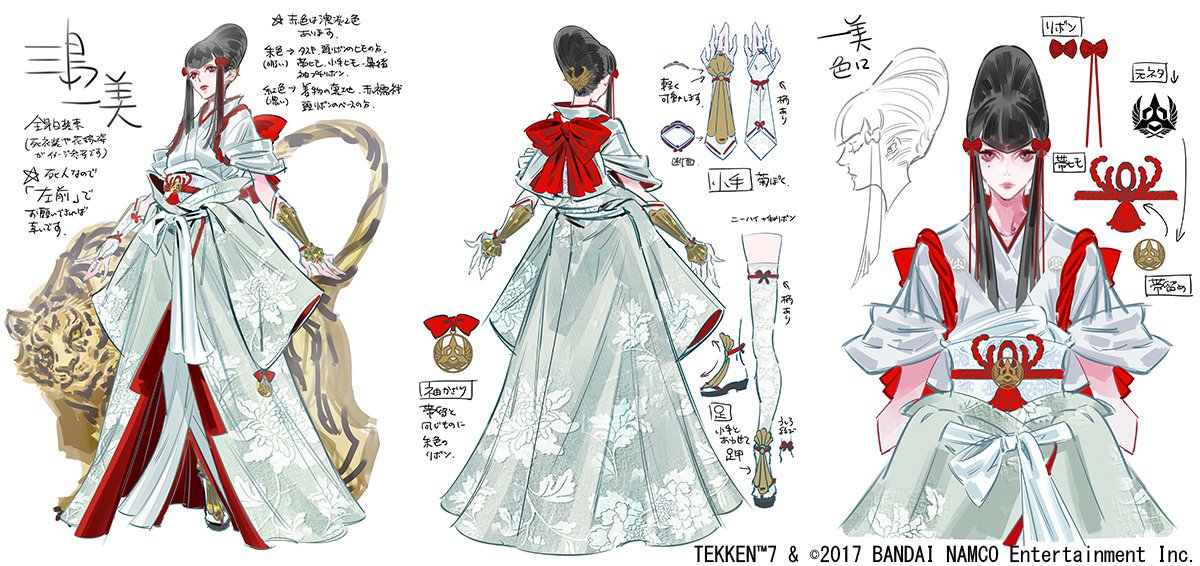 Her other Tekken character is Josie Rizal, A Kickboxer from the Philippines. The Philippines rarely get representation in Japanese media. She modernized the Baro't Saya, the national costume of the Philippines, and gave it the colors of the country's flag.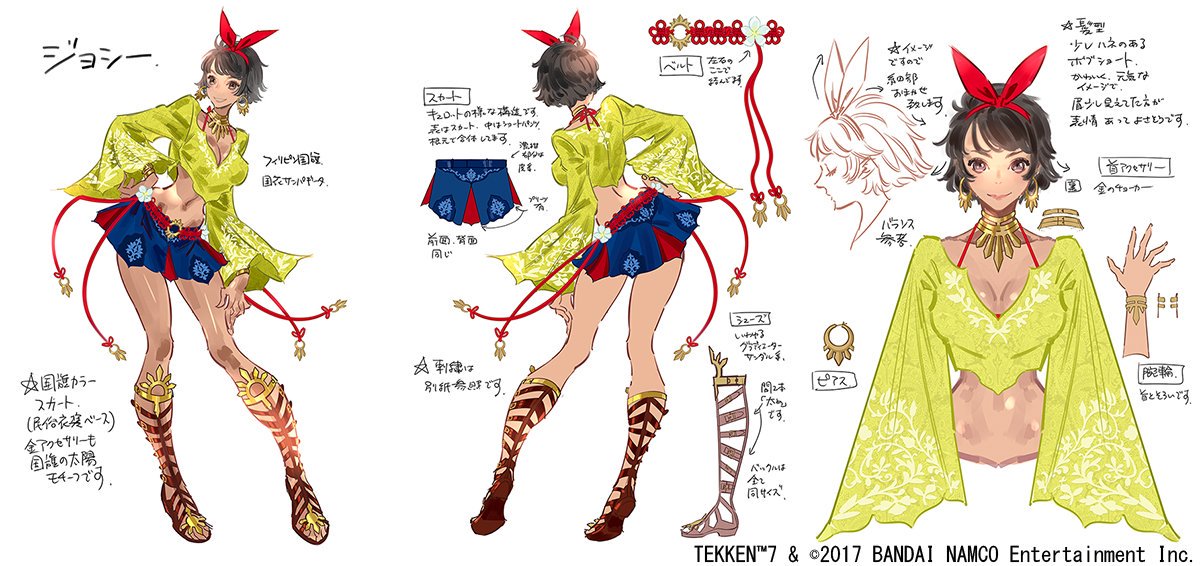 『鉄拳7』300万本超おめでとうございます記念再掲。
まだまだ続きますように。 pic.twitter.com/djjf0vMzH4

— 島崎麻里 (@MariShimazaki) October 21, 2018
Kimmy Howell returned in No More Heroes 3 but not as a little girl assassin but as an adult woman.
発売1週間!『ノーモアヒーローズ3』でデザイン担当させていただいたキミー・ラブの設定画を。
パブ絵の方は加工なし版で。
前作のキミー・ハウエルからいろいろ成長してますー#NMH3#NoMoreHeroes3 まだの方もぜひ

『No More Heroes Ⅲ』
Character art "Kimmy Love"
Kimmy Howell has grown up. pic.twitter.com/3UrLIVAhIS

— 島崎麻里 (@MariShimazaki) September 3, 2021