Liv Morgan, a former Smackdown Women's champion and current WWE Superstar, loves horror movies. Some of her ring gears, she had inspiration from horror characters. While still a member of the tag team The Riott Squad, they cosplayed horror film legends.
It's Pennywise, Jigsaw & Leatherface courtesy of the Riott Squad 🔥 #WWEEvolution pic.twitter.com/vFEThEtTKF

— ~Angie~ (@DAmbroseAsylum_) October 29, 2018
Liv Morgan's attire is based on Pennywise, Sarah is dressed as Leatherface, and Ruby Riott (now Ruby Soho in AEW) is dressed as Jigsaw.
Her favorite horror franchise though is child's play. One of her favorite ring gears is inspired from Chucky.
Liv Morgan's Chucky inspired Ring Gear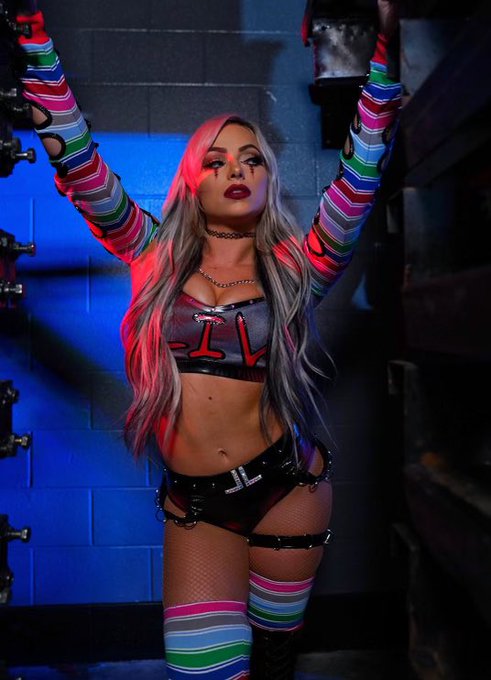 She appeared as a guest on the Dead Meat horror podcast in 2020. When she revealed that she had seen every Child's Play movie. On another interview she stated that she wanted Chucky to kill her on screen.
This is her own words: " I do not want a starring role, I just want to be brutally murdered by Chucky."
This interview got the attention of Don Mancini. So he decided to have Chucky invite her to guest on his show. She asked WWE if there was a way for her to make an appearance on her favorite show in any capacity, and her request was approved. WWE allowed Liv Morgan to make this appearance, and instead of playing a character, she goes meta and plays herself.
Can't wait!! 😍 https://t.co/48dsHVDjmz

— LIV Morgan (@YaOnlyLivvOnce) October 25, 2022
On Last Night's Episode of Chucky, Liv made her special appearance playing herself. It is a Meta episode where Chucky have a talk show and Liv is the guest.  Together the two of them tried to break down the murder mystery that happens in the show. There is a funny banter between them so you can see Liv is living her dream.
The Episode ends with Chucky stabbing Liv on her stomach multiple times until she died. You can see her experience of selling moves from her wrestling career as she acted beautifully as Chucky shivs her to death. She may have a future in Hollywood because I enjoyed her acting in the whole episode. It will be cool if next time Liv appears in Smackdown, she have bandages on her stomach, to make this incident canon to the WWE storyline.
She is very thankful for her experience and find new friends with the cast and crew.
Thank u thank u thank u 🙏✨ Love u! 🖤 https://t.co/vTR66zWjn5

— LIV Morgan (@YaOnlyLivvOnce) October 27, 2022
She had the time of her life on this behind the scenes footage.
ur welcome @yaonlylivvonce #chucky pic.twitter.com/ndu3eYBPaP

— Chucky (@ChuckyIsReal) October 27, 2022