First released in September 1996 for the MS-DOS, this combat racing game is named Death Rally has been given an update, and now has graphics almost suitable for the current generation, new content has been added, but the mechanics have not been touched. Did the game deserve the remake?
You race for money and fame. Money allows you to purchase upgrades for your car and weapons. Fame lets you unlock challenges.  When it comes to unlocking new tracks, weapons and cars that must be done by picking up items which help you unlock them in the race, which drops from shot-up crates or dead opponents. It can take several races and many hours to unlock certain items. There's actually not much content here, the developers just made it this way so you have a reason to play the same content over and over again.
Tracks have plenty of twists and turns which can be made of asphalt, dirt or snow. You can feel the differences between them as you drive. I just wish there were more of them, some tracks are just reversed to give the game more content. Explosive gasoline tanks which slow cars when they blow up and crates which drop power-ups (ammo, nitrous, repairs and a little extra cash) are strewn about each track. Racing can be very entertaining when you are trying to master driving on the S-turns and 180* curves all the while, trying to shoot the guy ahead of you.
Vehicles become more damaged the lower their health drops. Weapons can range from shotguns, to Gatling-guns to missiles, and of course the flame-thrower which carries a special place in all of our hearts. The only blemish in this arsenal is the fact that mines are the only rear attack.weapons you ever receive.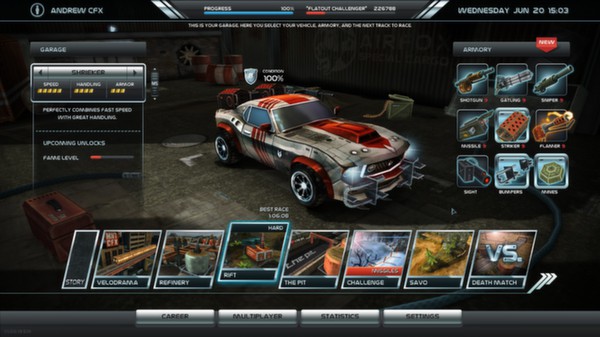 Thankfully, there's not much of a story here, you just go straight to the racing. The game starts with you getting caught by the cops and in order to avoid jail time you strike a deal with a cop named Tex. He is boisterous and corrupt, although it would be more accurate to call him a pig since that is what he sounds like when he is talking in the dialogue box's which are laid out in comic book style.
The camera angle is tricky at first, you are given a "birds eye" top-down view instead of a first person view. Without the chase camera on, then the game is borderline broken and unplayable. In racing games the camera needs to stay behind the car 100% of the time. This is easily fixed in the settings within the game.
Death Rally is worth its value whether you are buying it for one dollar on Steam or for free on Android. Gameplay is explosively fun and challenging as well as extremely addictive.
[signoff1]