Dead By Daylight had been online since  June 2016. It is now 2021 and the character models look dated. Newer DLC characters like the Resident evil cast, The Trickers, and Yun Jin look modern. However, the  OG characters are starting to look dated. All characters will be updated but the survivors are prioritized first and the killers will be updated later.
The Licensed character Quentin from Nightmare from Elm Street is the most complained character. He looks nothing like his movie actor Kyle Gallner. The Stranger things Characters looks like their TV actors while Quentin looks like a ghoul. He looks so ugly that even the killers look better than him.
Kyle Gallner actually listened to the complaint of the fans and made this Tweet to Behavior:
Yo @DeadByBHVR I have been getting hit up quite a bit about my character Quentin from nightmare looking like a goblin version me and how people want the character to be in my likeness. Just make him look like me. Dooooo itttttttttttt 🙂

— Kyle Gallner (@KyleGallner) September 4, 2019
Quentin still looks nothing like Kyle Gallner but he finally has a face who can get love outside of his mother.
The other most complained character is Laurie Strode from Halloween.  She looks nothing like Jamie Lee Curtis who actually approved for them to use her likeness for free. This looks nothing like a young Jamie Lee Curtis.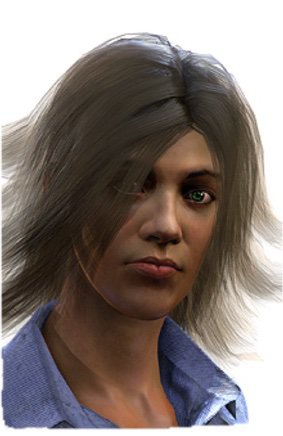 She still looks nothing like the actress she is supposed to be but it is an improvement from the crispy-haired crack addict we got before. I hope Dead by Daylight updates her model again.
The 3rd most complained character was Nea Karlsson.  If Milla Jovovich got addicted to drugs and refused to go to rehab, she will look like this:
There is a meme that says she is secretly a killer or she is the entity herself because of her appearance. The Resident Parkour girl finally dodged the ugly stick because looks stunning now.
She got a glow-up but fans of her classic look were sad because of the complete alteration. It is possible to make her character model look pretty without giving an overhaul to her model.  The new model renders of the survivors are complete eye candies except for Feng Min.