"Shocker Gundan, Banzai!"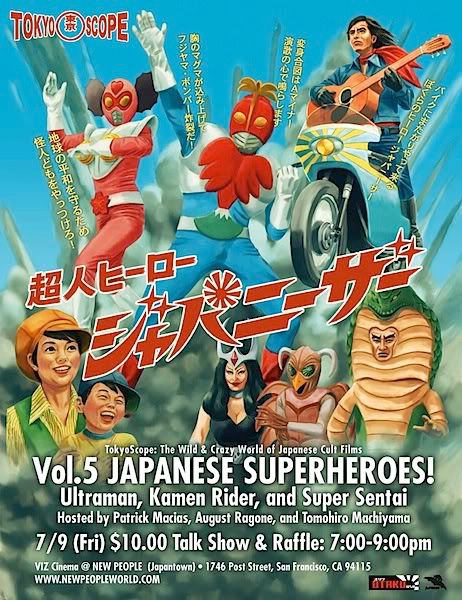 TokyoScope Vol.5: JAPANESE SUPERHEROES!
Hosted by Patrick Macias, August Ragone, and Tomohiro Machiyama
Friday, July 9th at 7:00pm-9:00pm
VIZ Cinema
1746 Post Street
San Francisco, CA 94115
(415) 525-8630
Ultraman! Kamen Rider! The Power Rangers!
These and many other colorful crusaders of justice are now recognized the world over as essential icons of Japanese pop culture. But where did they come from? Who created them? And what is it really like battling rubber monsters and the forces of evil on a regular basis? Join hosts Patrick Macias (editor,
Otaku USA
magazine), August Ragone (author,
Eiji Tsuburaya: Master of Monsters
), and Tomohiro Machiyama (founding editor,
Movie Treasures
magazine) as they explore the fascinating history and origins of Japanese superheroes using rare film clips and images from numerous tokusatsu, sentai, and henshin hero productions including
Ultra Seven
,
Kikaida
,
Space Sheriff Gavan
, and many others. Admission $10. Presented by Otaku USA.
WIN FREE TICKETS—click here!
http://www.newpeopleworld.com/upcoming-events/win-free-tickets-to-tokyoscope-vol-5-japanese-superheroes/