Neko's sales thread (3DS, broken ps2 & wii, ps3 games, other misc)
Rules:
1) US buyers only
2) Paypal or Amazon payments only
3) Shipping not included unless stated
4) Everything will be shipped via USPS. It's easier for me.
5) Opened for reasonable offers unless otherwise stated.
6)
My Ebay page/rating
If you're paying with paypal, please PM me your email so I can create an invoice.
If you're paying with Amazon payments, I will send you my email via PM. Please leave a note for what you're paying for and then PM me your address.
WANTS
Super Samurai Green MegaBloks x 5
Special Items
NEW ITEMS
PS+ 3 month - $15, code will be PM to you
Selling
Gokaiger candy toy, the ones without the cannon ball pieces. I'd preferred not to break them apart unless there are buyers for all of them. BRAND NEW $55 shipped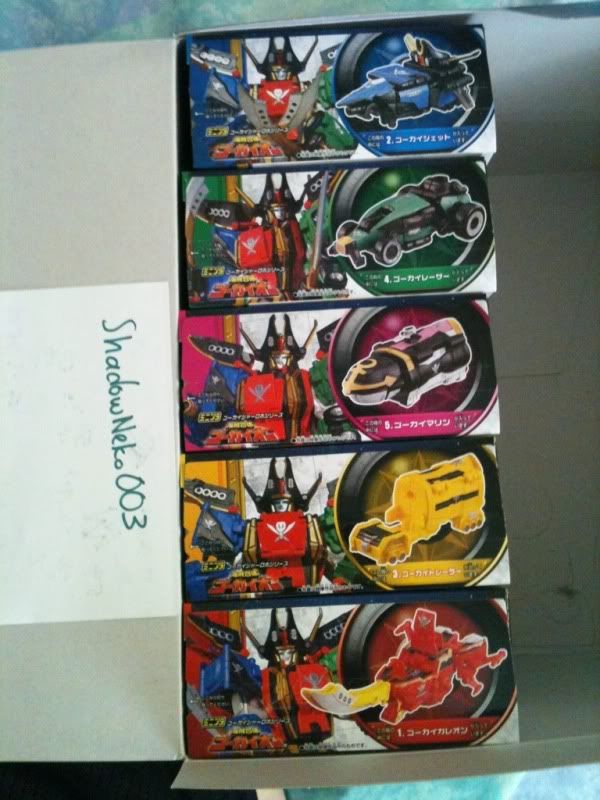 Power Rangers TCG
Non-Holo
1-001 Red MF x1
1-003 Black MegaRanger x1
1-005 Black MegaRanger x1
1-006 Black mf x4
1-007 Yellow MegaRanger x1
1-008 Yellow MegaRanger x1
1-009 blue mf x2
1-014 samurai pink
1-017 Red RPM Ranger x3
1-018 red rpm
1-019 Blue RPM Ranger x3
1-020 Yellow RPM Ranger x3
1-021 Green RPM ranger x4
1-022 black rpm x2
1-026 High Octane Megazord x3
1-029 Terra Zord Brothers x2
1-033 Red Mega Ranger x2
1-034 red mf
1-035 pink mf x1
1-037 pink mf
1-038 black mf x1
1-040 black mf x1
1-041 yellow mf x1
1-042 Yellow MegaRanger x2
1-043 Blue Mega Ranger x1
1-044 blue mf x2
1-046 Red RPM Ranger x1
1-047 blue mf x2
1-049 green rpm
1-053 Serrater
1-055 steeleto x1
1-057 mooger x2
1-058 Loggie x2
1-060 dayu x1
1-063 yellow rpm x1
1-066 MMPR red
1-069 blue mmpr x1
1-071 black mmpr
1-074 black mmpr
1-085 red samurai x2
1-090 s. samurai blue x1
Holos
1-051 Xandred
1-078 green mmpr
1-083 Tiger drill megazord
http://i103.photobucket.com/albums/m158/ShadowNeko003/DSC00106_zps213b9761.jpg
Comic Party: PVC Statue – Eimi Ohba Changing Clothes – Brand New $30 shipped
Toshiro Hitsugaya plush, banpresto
I kept this in a bag since I got it, so it's new-ish. $7 + shipping
Final Fantasy XII Limited Edition guide
Great condition, carefully used, $25 + shipping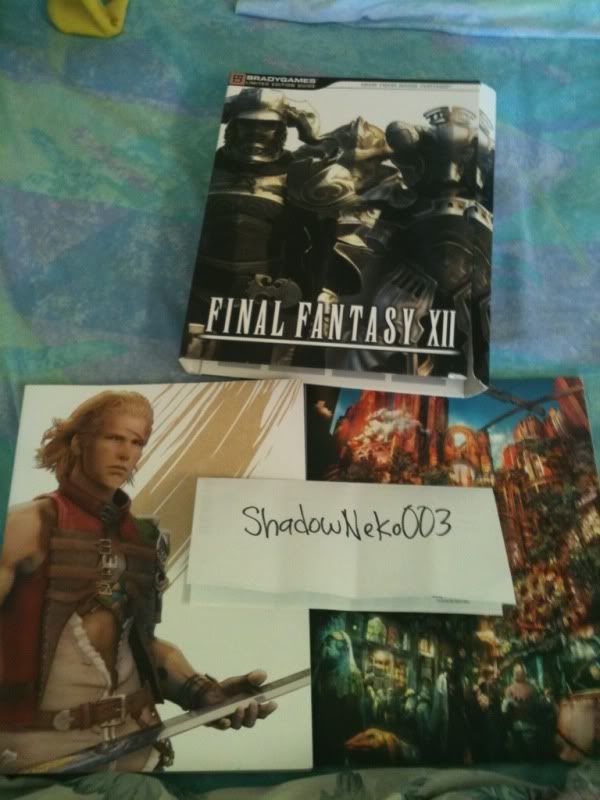 Gundam Seed and Seed Destiny Pin up collection book – All pages intacted, $25 + ship
Manga, $5 each plus ship
All are in good condition, with the exception of yellowing on the side
Full Metal Alchemist v4
Vampire Knight v1
Shinobi Life v1, v2
Q-Ko-chan v1, v2
Cosplay Korono-chan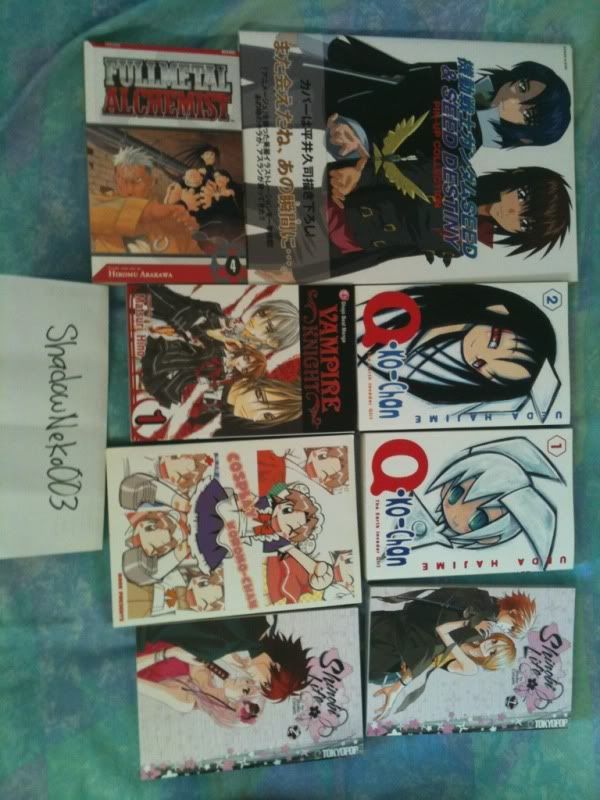 Twilight Sage hardcover book set, includes the cards -$40 shipped
Like new condition, read only a few times
These are
Chibi-Voice Kamen Rider Den-O
They are all new, still in original plastic, except it may need new batteries.
$12 shipped
Ura, Kin, Ryuu are sold!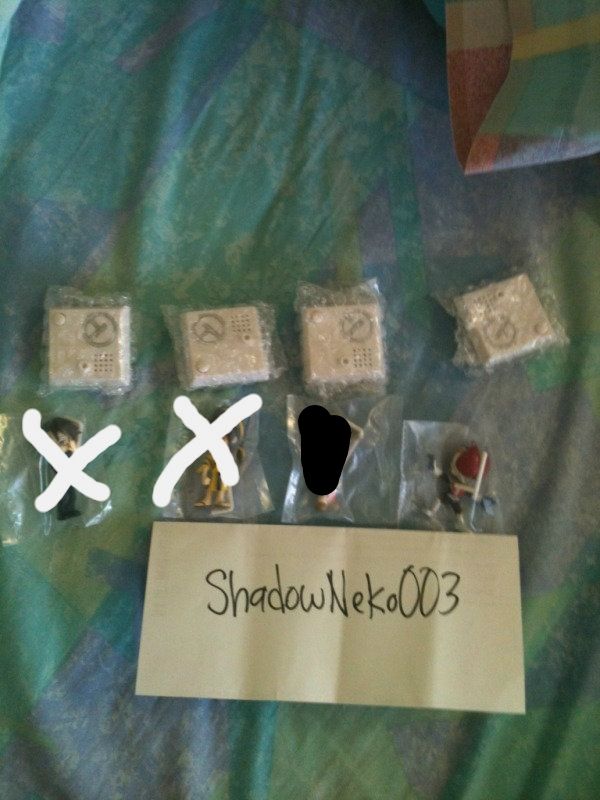 Megabloks Series 2
MegaBlue x 1, Training Yellow - $4 each shipped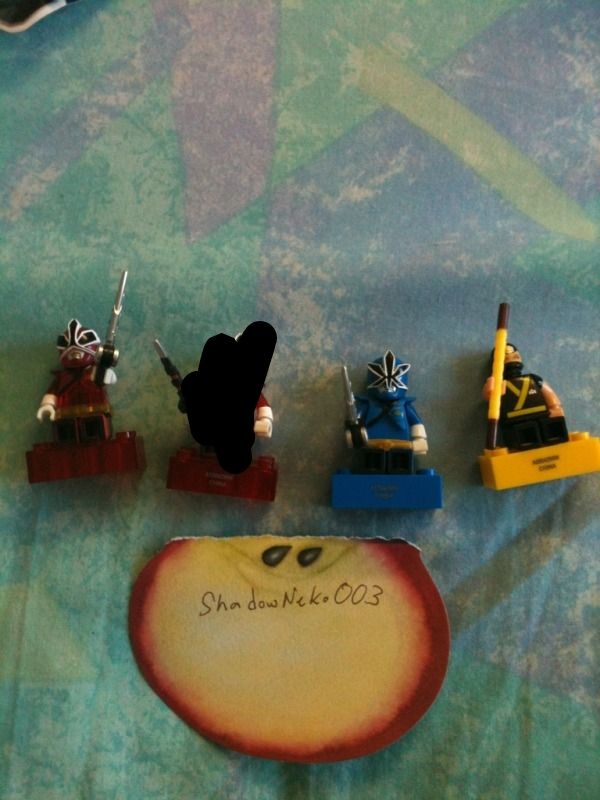 ClearRed Red Ranger figure from SDCC 2012 - $8 shipped
Shrek ears - $8
Posters (27" x 40") $18 shipped
Dredd
The Possession
Hungers Games, Exclusive from SDCC (that's what it says on the bottom left corner)
Expendables 2
Broken PS2 FAT - offers + shipping
As you can see, the disc drive is removed. It still turns on and stuff. No cables or controllers.
PS3 games
All come from PS3 bundle. I don't play these games. Want them gone!
Brand New, $15 + shipped or all for $50 shipped
Uncharted: Drake Fortune
Uncharted 2: Among Thieves
Broken AS IS White Wii - offers + shipping
It turns on, disc drive works (I believe it's been a while.) It turns on to a black screen, meaning it doesn't show the Warning menu. Selling it AS IS!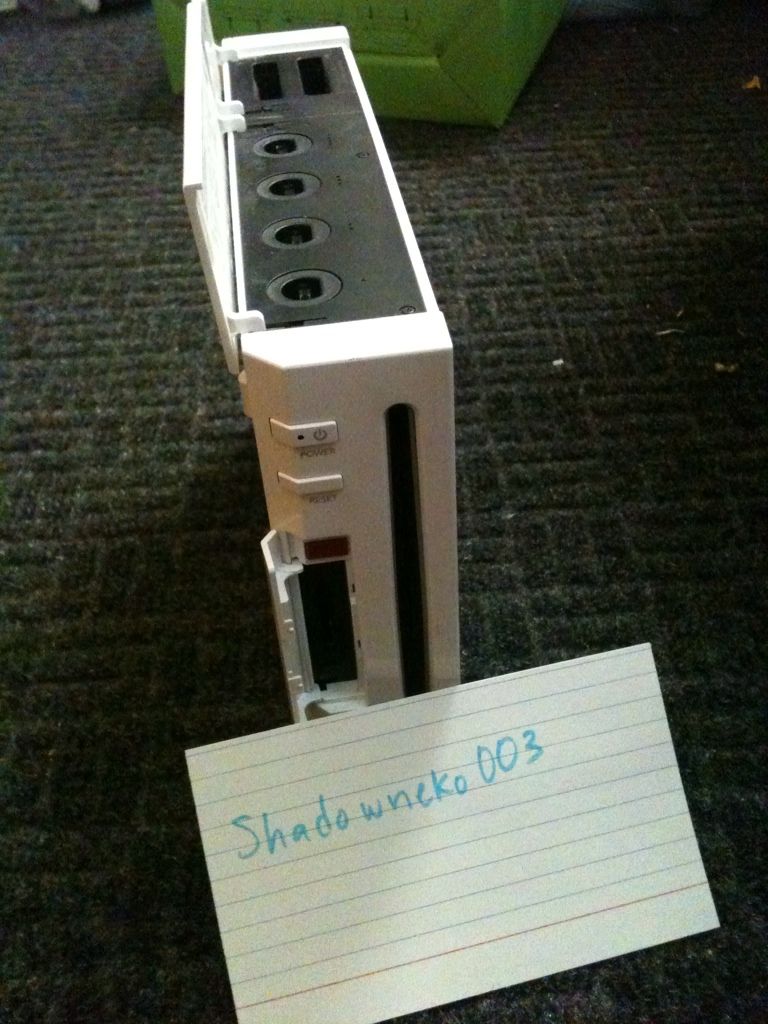 Last edited: