Majisuka Gakuen Season 2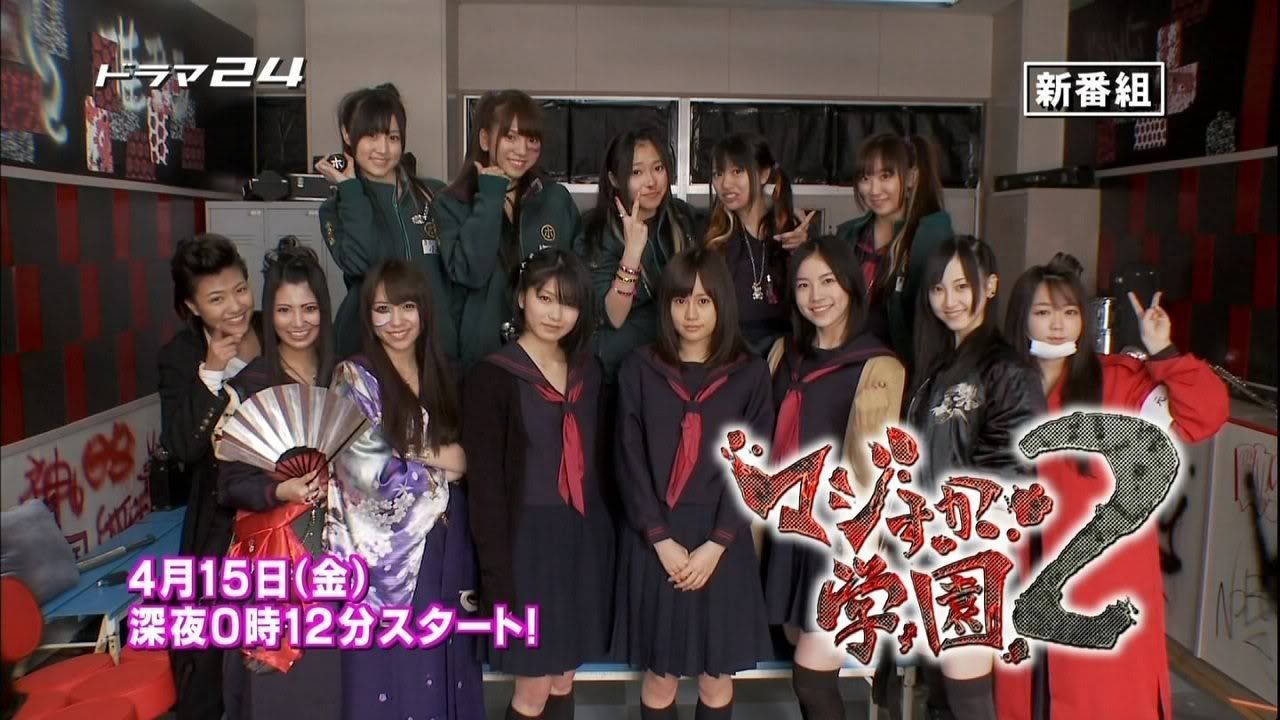 i'm not sure if anyone else here is following Tomomi Itano and Tomomi Kasai of AKB48 (aka Queen and Elizabeth of Kamen Rider Double), but these two are also doing acting stuff besides from their regular stint singing as idols.
Enter Majisuka Gakuen season 2. Note that i have purposely skipped season 1 as the series has already ended, whereas the second season is just on it's 3rd episode. The story basically revolves around delinquent high school girl students in their quest to dominate not just the school, but be the most badass yankee school in the prefecture.
Almost all of the casts are members of AKB48 and SKE48 where Kasai is one of the current "Queens" or top honchos of Majisuka Academy's Team Rappappa. Here Itano plays Shibuya, a former queen of Rappappa and currently "re-enrolled" in rival school Yabakune. She was defeated by the main character in the first season, and not being satisfied with her life outside the school as an IT staff - she re-enrolled in a rival school to get her revenge and dominate all the yankee schools in the area.
The series is a mixed set of comedy puns and action (yes, you see the girls punching and kicking asses around) in honor of the movie Crows Zero.
As a sample, here is the entire MG2 episode 3 shown last night. Here you will see Kasai go one on one against Itano. Some of you might get interested in following the series or become fans, you might want to try watching this show. Please take note that this does not have subtitles yet as this episode has just aired last night (TV Tokyo, 12:12 midnight Japan Time).
Ep.3 1 of 2
[ame="http://www.youtube.com/watch?v=tIZgl2jHoqM"]http://www.youtube.com/watch?v=tIZgl2jHoqM[/ame]
Ep.3 2 of 2
[ame="http://www.youtube.com/watch?v=3ussUx7RHZ0"]http://www.youtube.com/watch?v=3ussUx7RHZ0[/ame]
Last edited: