Go-Onger
has suffered some of the same complaints as Transformers: Animated- that the designs look "weird" or "kiddy." Strong words coming from the Super Sentai crowd...
The Mecha for Go-Onger are called Engines; they are sentient machine-animal hybrid creatures. They can't survive on their own in the human world, so they shrink down into toy-sized duplicates and transfer their energy into small cartridges called "Engine Souls." The Souls allow new powers & weapons in the series, and unlock special sound effects in the toyline (they're kinda like big Force Chips). Which essentially means that-just like Transformers: Armada & every Yu-Gi-Oh! series- we now have a Super Sentai franchise where the characters themselves are obsessed with merchandise.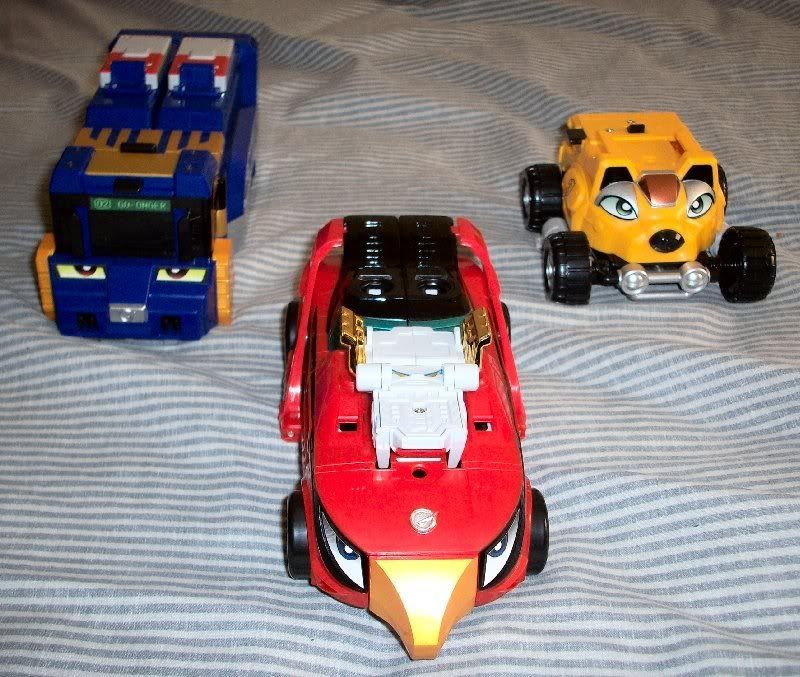 These are the first Engines: Speedor (the red Condor/racer hybrid), Buson (blue Lion/bus) and BearrV (yellow bear/4WD). Pretty decent machines. Speedor has a "flight-mode" of sorts for added play value.
The Giant King of Engines appears!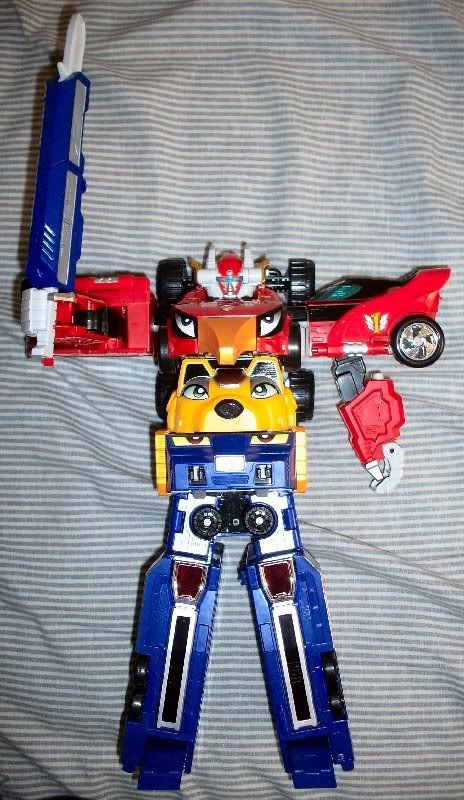 Engine-Oh is a pretty decent combination. Unfortunately he maintains the "3-member problem" because Yellow is just sandwiched in without serving any real purpose. Lots of people don't like the multiple eyes on this guy, I don't really have a problem with it though. Comes with typical sword & shield, arms have decent movement but not much else. The show offers a reason for it: even when combined, the Engines can still talk to each other (and their respective partners).
The Go-Ongers are quickly joined by 2 new members, rounding out the roster. And like clockwork, new Engines appear!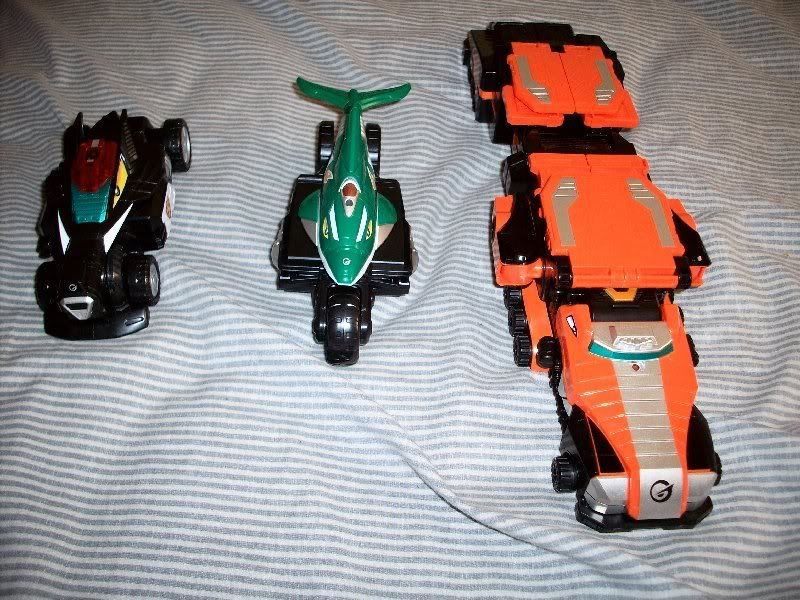 New members are Gunperd (police car & German shepherd) & Birca (motorcycle/orca) for the new Go-Ongers. Shortly after them is Carrygator (semi-truck/alligator), a member of the Engine's "Gian" clan (which means he doesn't need a human partner of his own, but stays with the Go-Ongers because he admires them).
Gunperd & Birca both form additional weapons for Engine-Oh.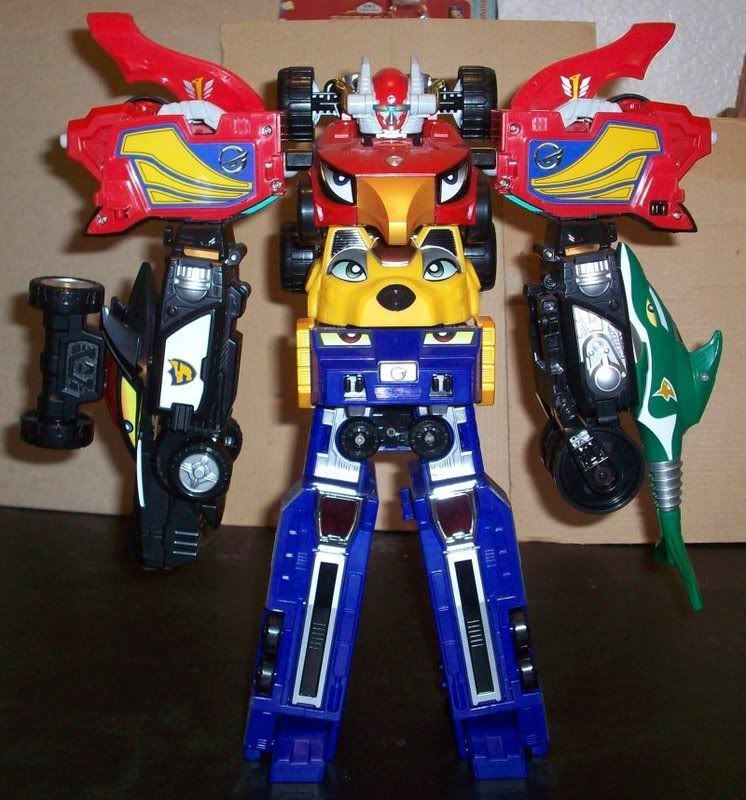 Or they can unite with Carrygator to form another new Mecha, Gunbir-Oh!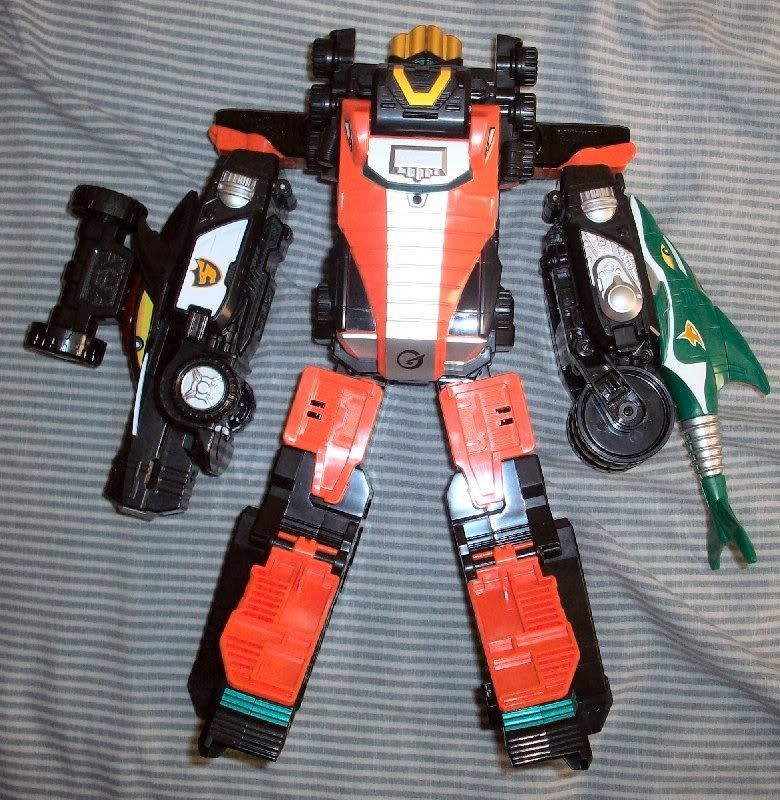 The new guy's not nearly as articulate or as impressive as Engine-Oh.
And as another option, the complete team can unite to form-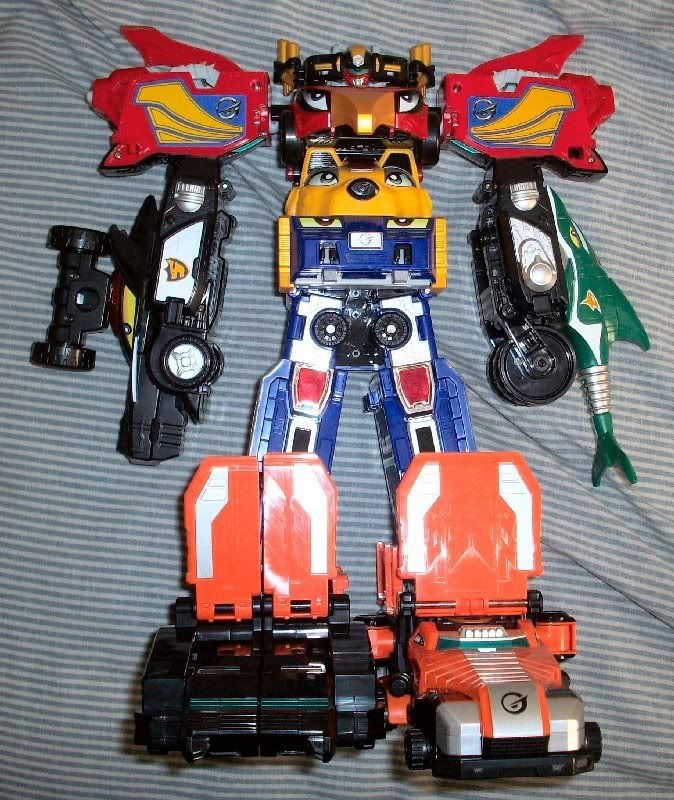 Engine-Oh G6! An inarticulate shelf piece.
Later on, two more Go-Ongers show up, with their own respective Engines: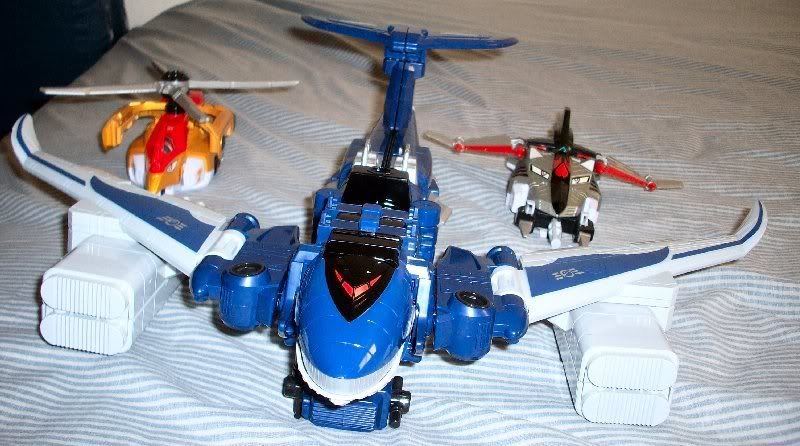 Toripter (rooster & helicopter), Jetras (jet/tiger) and the massive Jum-bowhale (whale & jumbo jet). These Engines are members of the "Wings" clan, which is why they're based on flying machines. They can also combine: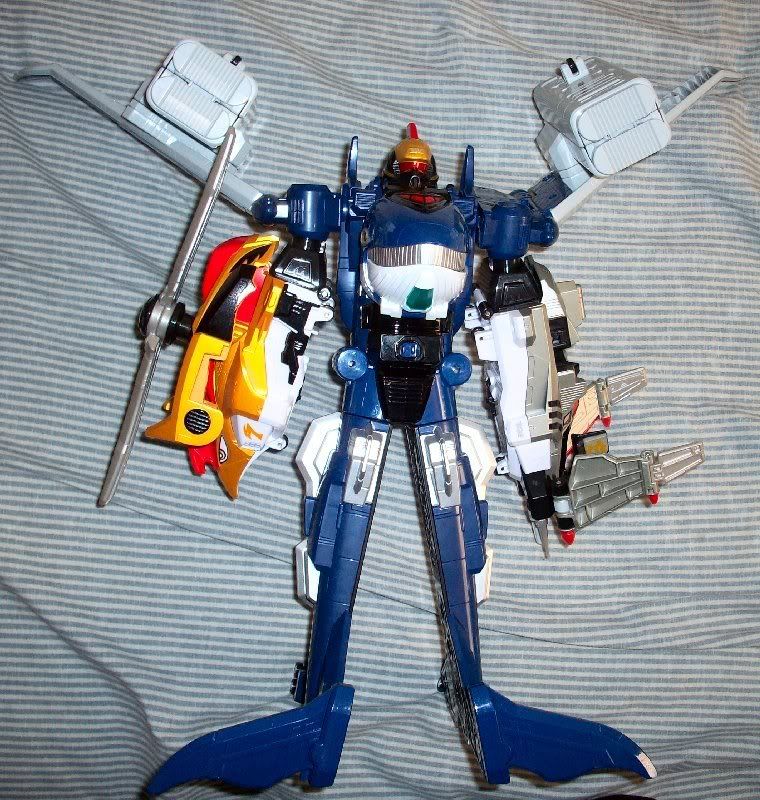 Seiku-Oh, simultaneously the largest and thinnest of the 3-piece combiners here. Armed with a bow weapon in the series, which doesn't translate well into the toyline.
The Wings can also lend their powers to Engine-Oh-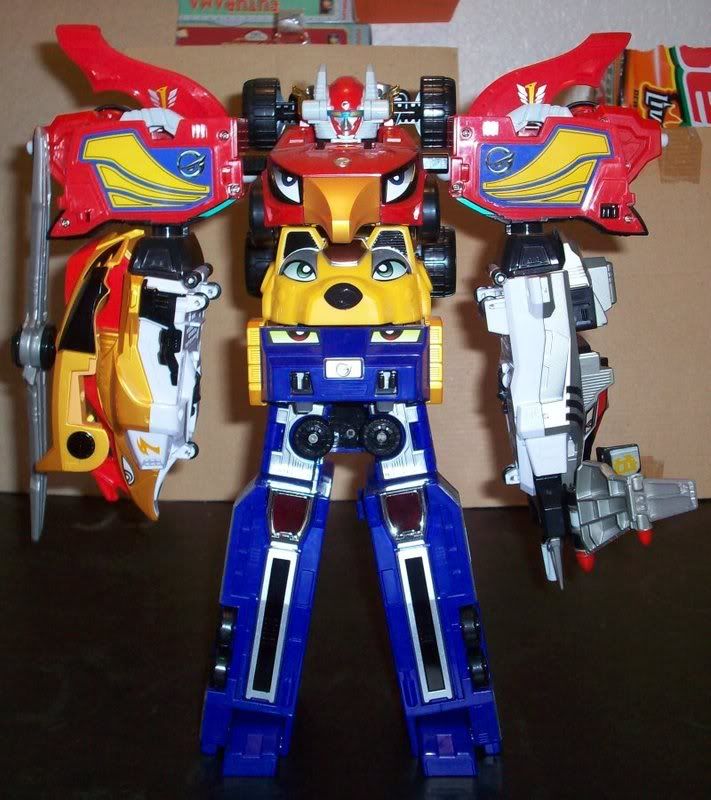 Or, they can all link up together for Engine-Oh G9!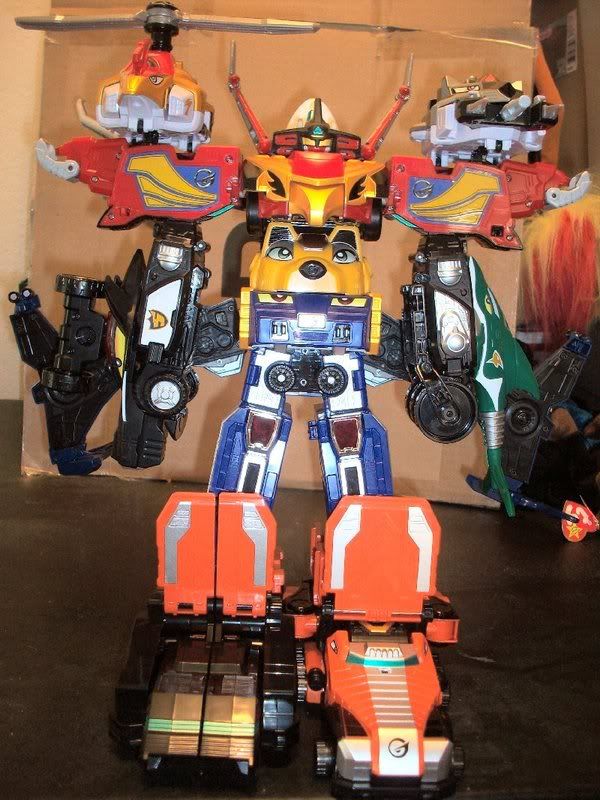 Its huge but almost perfectly immobile.
Recently, three other Engines were located- these "Ancient Engines" were found to have lived on Earth long before any of the others got there.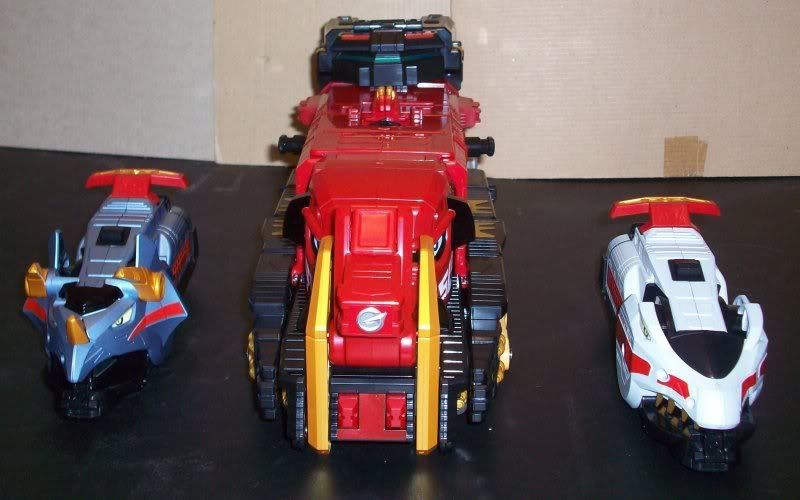 Kishamoth (steam engine/mammoth), T-Line (Tyrannosaurus & bullet train), and K-Line (triceratops/bullet train).

True to their locomotive nature, they can all link up in vehicle form. Then they unite!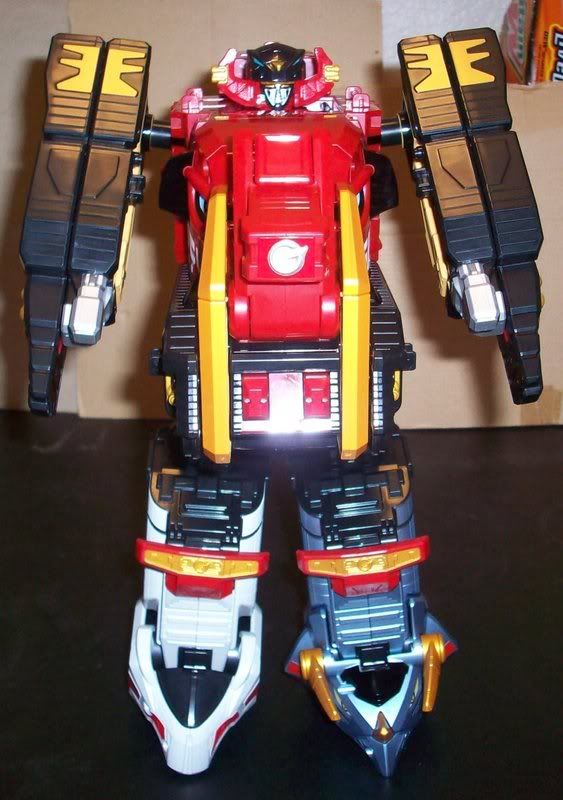 Kyoretsu-Oh, a bulky combination that finishes off enemies with steam-powered karate chops.
And these final 3 are able to join their powers with the group, and create-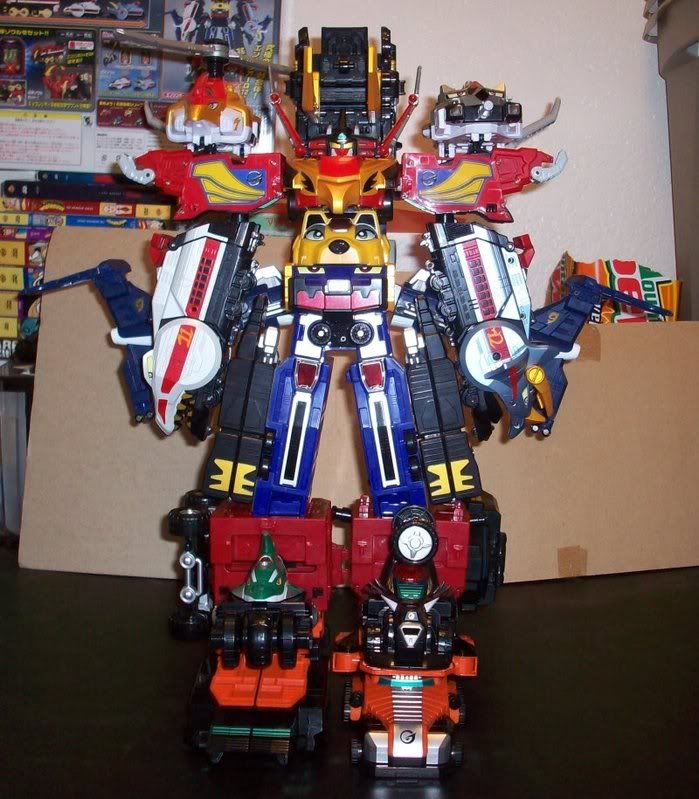 ENGINE-OH G12!!!
It is impossible to describe this combination without using the word "cluster."
Just to give a sense of how massive G12 is...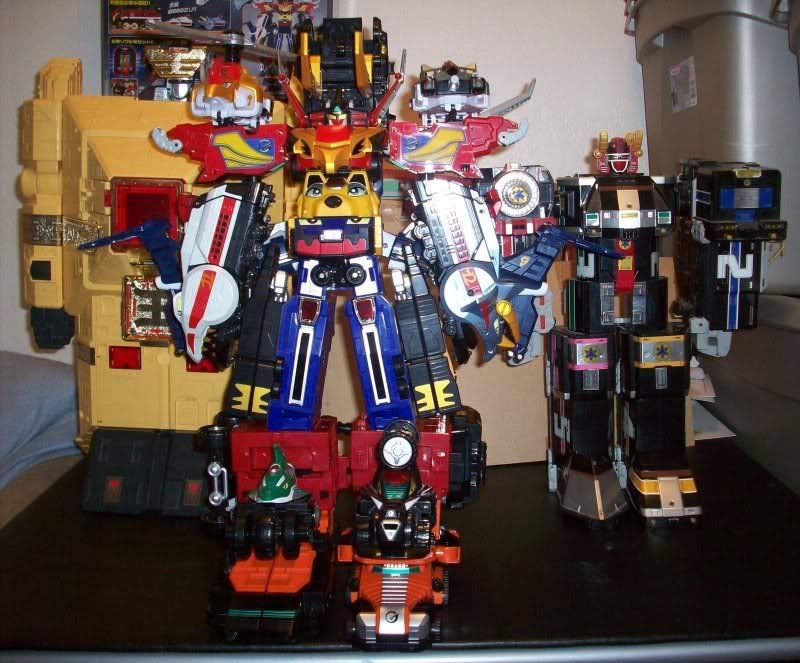 While G12 may be a bulky (if not hideous) union, the actual fact that they are now able to join 12 pieces together is an impressive and memorable feat.
In all, I like the Go-Onger line (aside from the stupid Engine-Soul gimmick) and I'm very satisfied with the Engines.