Akira Kazama may not be the main character of Rival Schools: United by Fate.  She is now  the most relevant character from the franchise. However, She just debuted her Street Fighter V trailer.
Akira Kazama Trailer
She was originally a character from Rival Schools or Project Justice Franchise. It is a High School themed 3d fighting game that plays like Marvel vs. Capcom games because it has air combos. She still plays like a Rival Schools character because she is the only character on the Street Fighter V roster with Air combos. This baby faced biker chick's fighting style is Bajiquan.  Her stage Rival Riverside is her stage in Rival Schools. The two delinquents in the background are her teammates from the game.  Akira was the little sister of the feared High School delinquent Daigo Kazama. Her brother assist her attacks in Street Fighter V, It is a reference to the tag team mechanic of Rival Schools and its sequel, Project Justice.
Akira Kazama beating up Sakura and Karin in her trailer is a nod to Rival Schools because Sakura was a playable character in Rival Schools.
Karin Interacted with the Rival Schools characters in the Udon Comics of Street Fighter.
The Kanzuki Beach Stage in Street Fighter V, which is a stage bundled with Karin's Bikini costume has cameos from Rival Schools characters Tiffany and Hinata. On this Udon Comics Art, Karin is with Hinata and Momo.
Now let's talk about Akira Kazama's costume for Street Fighter V.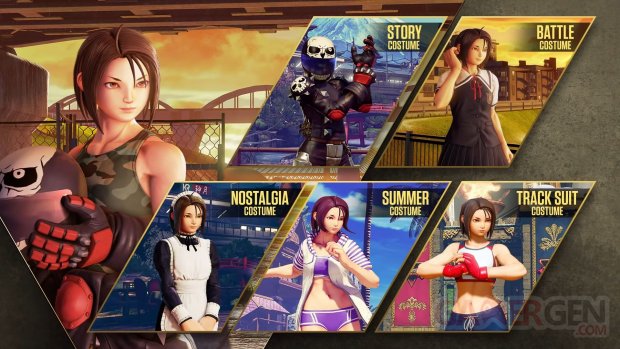 Her story Costume is her default costume from Rival Schools and her Powered Mode in Project Justice. Akira pretends to be a boy in Rival Schools so she can reach out to her Brother's friends, Gan and Edge.  She did it to save her brother.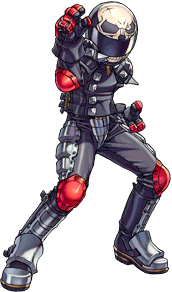 Her Battle Costume was the Uniform of Seijyun High School, It is her school in Project Justice.
Her Nostalgia Costume is a reference to Friendship Simulator, A visual novel for Rival Schools that is Japan exclusive.
The Track costume is free DLC for all Street Fighter V characters. So it makes sense for Akira to have one.
The Summer costume is just Capcom's excuse to put her in a Bikini but it may also be a reference to Street Fighter V stage, Kanzuki Beach, which has Rival Schools characters Hinata and Tiffany as background characters.